Well, February was a very busy month for me! I have lots of new layouts to share with you all. The designers at Brownie Scraps have been so busy making awesome new kits, hosting a designer challenge, and currently hosting a guest CT challenge too! Busy girls!
The first 2 layouts here I did using the awesome February Designer Collab kit that all the Brownie Scrap designers put together!
This first LO was for a speed scrap:
CREDITS
I host a
"Decadent Desktop" challenge
and this is my desktop that I did for Feb. The idea was to create a desktop, showing off your loved ones, but no pink/purple allowed! This is me and my handsome hubby!
CREDITS
This is a picture of my son & I back in the summer. This LO was done for the
Brownie Indulgence Challenge
. Ramona provided us with this fab mini kit for free...all we have to do is create a layout using every piece of the kit. This is what I came up with:
CREDITS
I used the fun, freebie kit called Kindergarten Crafts from Peppermint Creative for this LO for the 'Fat-Free' (white space) challenge:
CREDITS
Kelly ~ Dreamers Magic Designs ~ released this new kit called
Unconditional
. Isn't it gorgeous? I made this using her kit: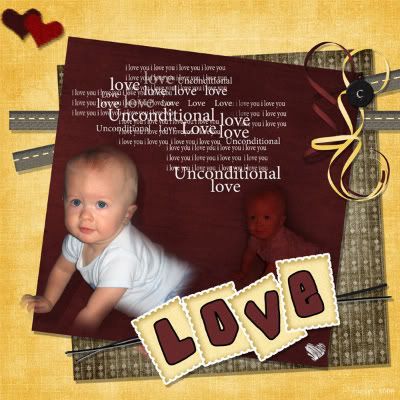 CREDITS
Next are a couple of layouts that I did using Leslie's ~ Dragonfly Designs ~ kit called
First Snow
. I love the colours in this kit and the elements are too cute! Perfect for scrapping those winter pics!
Here is my son loving his new sleigh!
CREDITS
This one is for my ABC book that I am working on! Obviously I need a Chase page!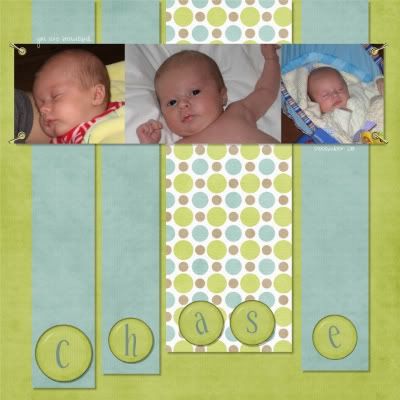 CREDITS
Next is one of my favourite layouts to date! Eileen ~ Leenie Lou Designs ~ provided us with this awesome template for her
Semi-Homemade Challenge
. I used the kit
Simply Grateful ~ Design's by Ramona
for this LO:
CREDITS
As I said earlier- there is currently an amazing designer challenge happening at Brownie Scraps! This kit is called Friends for Good and was created by Plum Dumpling Designs. For this challenge we were to literally use 'white-space' hence the white background. I love how this colours in this kit really pop against the white. This is my son just being silly!
CREDITS
Bethany ~ Scrappin' Daisies ~ created this super fun kit called
Ready, Set, GO!
Perfect for any little boy!
I used Bethany's kit for this page and also created this for the
One Ingredient at a Time challenge
, hosted by Leslie. I love how it turned out!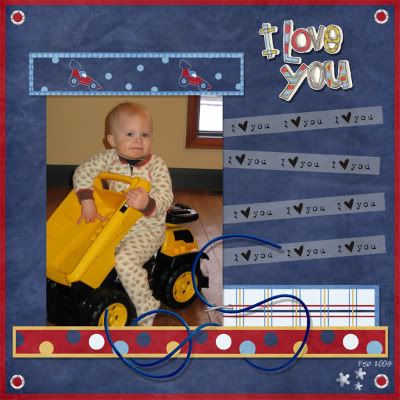 CREDITS
I also used
Ready, Set, GO!
for my D page. I love this picture of Chase with his Daddy!
CREDITS
That's it for now! I do have more to share with you but have run out of time. Off to the dentist....lucky me! I hope to get some QP's done to share as freebies here on my blog. Any suggestions on LO's that you would like to see as a QP??